Winning his 7th Wimbledon Open title, Novak Djokovic celebrated in a bizarre way. Kneeling down on the court, Nole grabbed few pieces of grass and ate them as part of his celebration. Djokovic squatted to the ground, picked up some grass, and then ate it; an epic way to win at Centre Court and celebrate.
When asked about why he munches on grass after a Wimbledon win, Novak replied that the celebration is like the taste of victory. He said, "I love tasting the Wimbledon grass. Because that means that I'm in the finals and I won. That's kind of like a little tradition, I would say, the three times that I managed to win this great tournament."
"I've always dreamed of winning Wimbledon. Kind of constructed little trophies when I was seven years old, eight years old, of Wimbledon, raising that trophy in front of the mirror, imagining myself to be a Wimbledon champion."
The Serb celebrated the same way when he picked up his 5th Wimbledon title after defeating Roger Federer in a marathon match. Djokovic triumphed over the Swiss 7-6 (7-5), 1-6, 7-6 (7-4), 4-6, 13-12 (7-3) in an match that made history. It was the longest final in Wimbledon history and the first ever to be decided by a tiebreaker. The fans made some appropriate jokes regarding Novak's celebration and said that only G.O.A.T.s eat grass.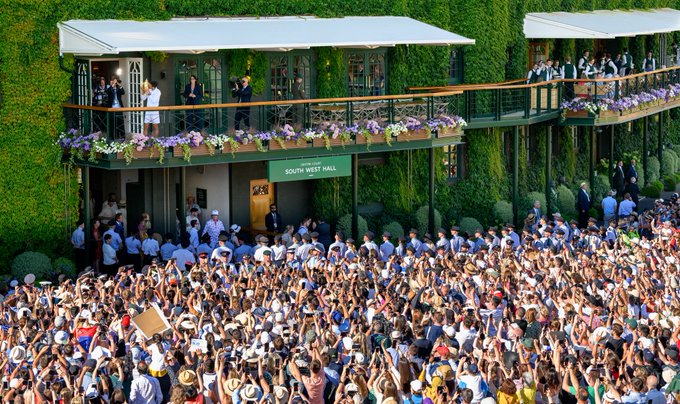 He added, "I must eat a grass. For some reason, I don't know why I picked that. The first time I've done it, it was the sweetest dessert I've ever tasted in my life. That experience hopefully I'll get to taste one more time before I finish my career."
Novak Djokovic wins the 21st Grand Slam of his tennis career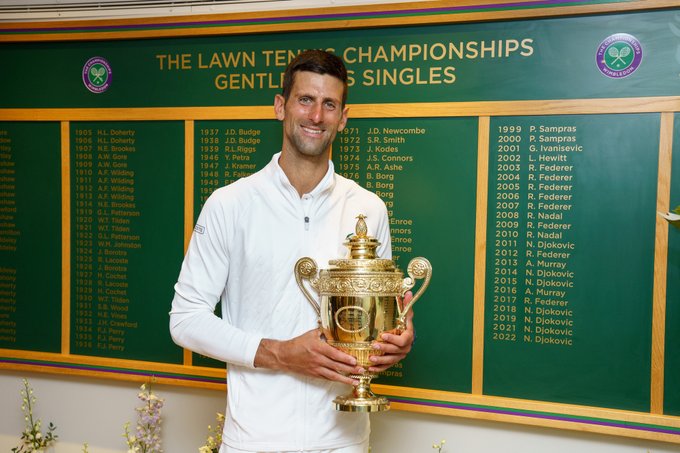 Novak Djokovic defeated Aussie tennis player, Nick Kyrgios, 4-6, 6-3, 6-4, 7-6 (7/3). The win prompted him in drawing level with Pete Sampras's mark of seven titles at the All England Club. With this win he also moves closer to the men's record of eight titles held by Roger Federer. He is now one Slam ahead of Federer in the all-time race and just one behind Rafael Nadal's record of 22 Grand Slam titles.
At the post match press conference, Nole said, "I'm lost for words for what this tournament and this trophy means to me. It always has been and will be the most special one in my heart."
Before the final at the All England Club, the duo of Novak Djokovic and Nick Kyrgios has always been cold to each other. However when is mattered the most i.e., during the Serb's Australian visa debacle, Nick stood by him.
🙏🏼❤️❤️❤️❤️❤️❤️❤️ pic.twitter.com/MWP4VRwvfg

— Novak Djokovic (@DjokerNole) July 10, 2022
Winning four back to back Wimbledon Open titles, Novak Djokovic cemented his shot as the world number one. The win at the Centre Court means a lot to Djokovic because this is his last grand slam this year. He will not participate in the 2022 US Open due to being unvaccinated. The United States of America bans unvaccinated visitors from entering their country.
Novak Djokovic is just the 4th man in the Open era to win four successive Wimbledon titles after Bjorn Borg, Sampras and Federer.