World no.1, Novak Djokovic triumphed over Aussie tennis player, Nick Kyrgios to win the 2022 Wimbledon Open title. Djokovic defeated Nick 4-6, 6-3, 6-4, 7-6(3) to win and tied with Peter Sampras at seven English Grand Slam titles.
Winning the men's singles Wimbledon title for a fourth consecutive time, the Serb moves past Roger Federer to have 21 Grand Slam titles to his name.
Magnificent.

In its 100 years, Centre Court has seen few champions like @DjokerNole#Wimbledon | #CentreCourt100 pic.twitter.com/vffvL2f08Q

— Wimbledon (@Wimbledon) July 10, 2022
Before the final at the All England Club, the duo of Novak Djokovic and Nick Kyrgios has always been cold to each other. However when is mattered the most i.e., during the Serb's Australian visa debacle, Nick stood by him.
The world no.1 said, "We definitely have a better relationship than what it was probably prior to January this year. But when it was really tough for me in Australia, he was one of the very few players that came out publicly and supported me and stood by me. That's something I truly appreciate. So I respect him for that a lot."
Novak Djokovic wins his 7th Wimbledon Open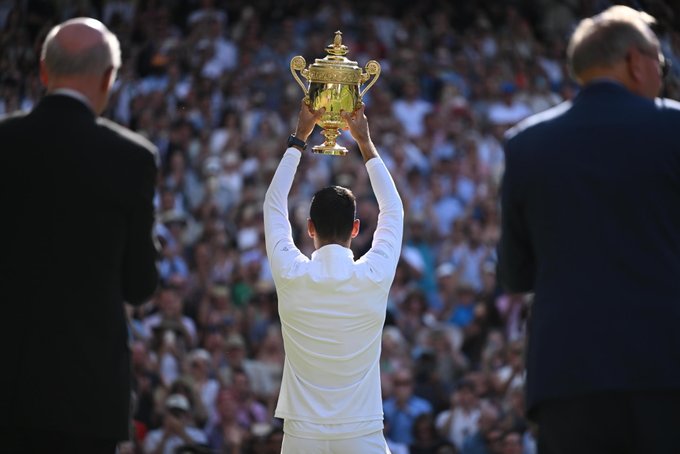 Winning four back to back Wimbledon Open titles, Novak Djokovic cemented his spot as the world number one. Impressed with Novak, Nick Kyrgios said, "He's a bit of a God, I'm not going to lie."
The win at the Centre Court means a lot to Novak Djokovic because this is his last grand slam of the year. He will not participate in the 2022 US Open due to being unvaccinated.
Centre Court rises again for one of its great champions

Congratulations, @DjokerNole ​👏​#Wimbledon | #CentreCourt100 pic.twitter.com/RAm2mm56pS

— Wimbledon (@Wimbledon) July 10, 2022
Due to this vaccine mandate of the United States of America, Nole might miss out on the American Grand Slam. Center for Disease Control (CDC), regulations require non-U.S. citizens to be fully vaccinated to travel to the United States by plane.
For to his refusal to take the COVID-19 vaccine, the Serb previously had to withdraw from Indian Wells. He knows it is unlikely that he will be able to gain entry into the United States. He could not play at Indian Wells, because of strict vaccine laws in the United States.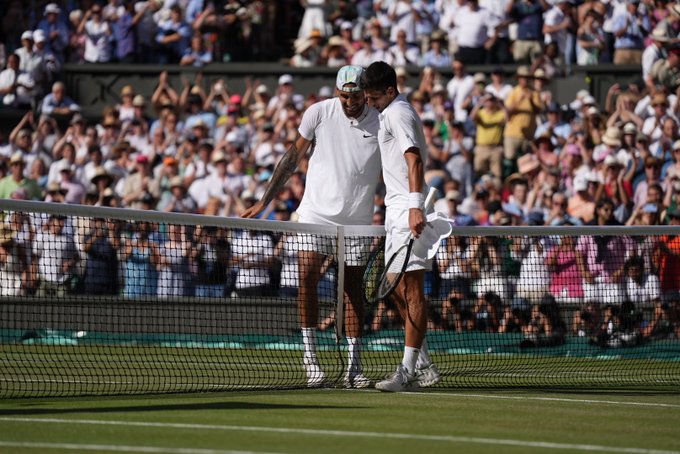 Nick Kyrgios is the first Australian to play a men's singles final on the Croquet lawns at the All England Club since Mark Philippoussis in 2003. Before coming on for the match, the Aussie enjoyed a winning record against Djokovic. Having beaten him in Acapulco and Indian Wells in 2017.