Rafael Nadal's coach, Carlos Moya has been working with him from 2016. He said that the Spaniard is a "survivor" who wants to keep winning Grand Slams for years to come.
Nadal beat Novak Djokovic and Roger Federer to get the record 21st Grand Slam titles. He defeated Russia's Daniil Medvedev in the Australia Open 2022 final to win his 21st major title.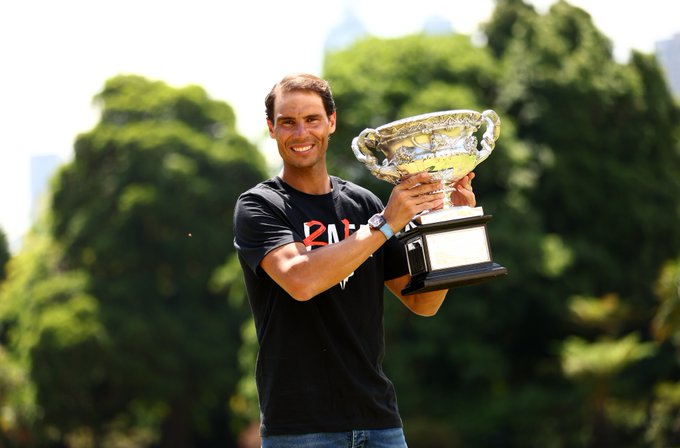 Moya told Aitor Gómez on the program RadioEstadio Noche on Onda Cero, "I think it is not the last Grand Slam that I am going to see him win. I am very aware of who Rafa is and what he has done in the history of tennis."
"It is very difficult for another to win, but it is Rafa Nadal. I will not get tired of say it. He is one of the favourite players for each tournament that he can play."
Carlos Moya & Rafael Nadal's Team Avoided 21st Grand Slam Title Talks
Rafael Nadal's coach, Carlos Moya said that the talk of 21st Grand Slam title was religiously avoided in the Australia Open dressing room.
"I can assure you that in Australia we never talked about the 21st Grand Slam title. Even though it was on the horizon, you know it can happen. Talking about it would just create additional pressure. We do not fuel this debate, we leave it to the press and tennis fans."
"Rafa is happy with what he has, he will be happy if he finishes with 21 and Djokovic with 25. It's not good to be obsessed. Obviously, he is not going to give up on the idea of a winning a 22nd Grand Slam. If the opportunity arises he will fight to achieve it."
Moya even talked about how Roger Federer missed his opportunity to win his 21st title in the 2019 Wimbledon Open. He missed out on a chance to win the title after blowing two match points in the 2019 Wimbledon final against Novak Djokovic.
Moya said, "What's amazing is how he seized his chance, Roger had two match points to win the 21st Grand Slam and could not convert them."