Former American world no.1, Chrissie Evert backs Rafael Nadal in winning the Indian Wells title over world no.1, Daniil Medvedev. Her opinion is based on the last two meeting between the two and Nadal's current form. The Spaniard had the upper hand in both the meetings.
Rafa defeated Daniil Medvedev, 2-6, 6-7 (5-7), 6-4, 6-4, 7-5, in the 2022 Australian Open men's singles final. He broke a three-way tie with Roger Federer and Novak Djokovic by claiming his 21st Grand Slam title.
Daniil Medvedev defeated Japan`s Yoshihito Nishioka in Acapulco to storm into the semi-finals of the Mexican Open. He took on Rafael Nadal in an Australian Open final rematch.
World no.1, Medvedev faced 21- time Grand Slam champion, Rafael Nadal on court in Acapulco. The two met for the first time since their epic Australian Open final last month.
Unfortunately for the Russian, Nadal defeated him 6-3, 6-3 and qualified for the Acapulco 2022 final and won the title.
Chrissie Evert puts Rafael Nadal before Daniil Medvedev
Rafael Nadal and Daniil Medvedev has faced each other six times. In all these encounters the Spaniard had the upper hand. Rafa has won five times out of the six.
The Russian and the Spaniard have met each other in ATP World Tour Finals (2019, 2020), US Open (2019), Canadian Masters (2019), Australia Open Final (2022) and the Mexican Open semi-finals (2022).
In all these six occasions Daniil has only won in the semi-finals of the ATP World Tour Finals (2020). Rafa dominated the Russian in all the other matches.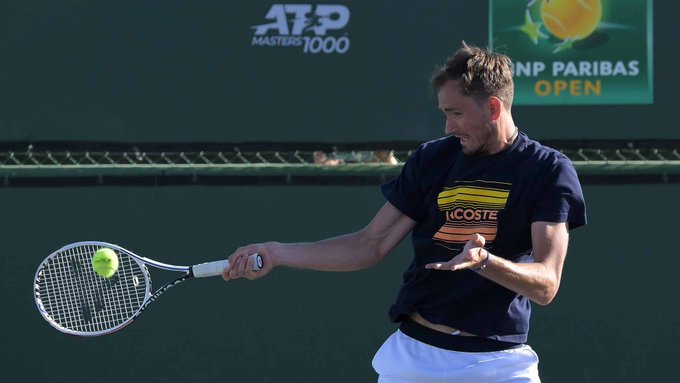 All these matches and meetings between the Spaniard and the Russian has helped Evert to come to the decision to back Rafa at the Indian Wells. She said, "Medvedev and Nadal are now the main favourites at Indian Wells. I don't know if you can put Medvedev over Nadal or Nadal over Medvedev. I think they are close in every respect."
She added, "Nadal, since taking that break, has become fresher, more focused. I think Nadal is much stronger after his leg injury. If they meet again, I think Nadal's form will matter more than the Indian Wells pitch."