Christine Evert was an American professional tennis player. The former world no.1 has won 18 singles Grand Slam titles and 3 doubles titles.
The American is still in ecstatic with Rafael Nadal's Australia Open win over Russia's Daniil Medvedev. He broke a three-way tie with Roger Federer and Novak Djokovic by claiming his 21st Grand Slam title.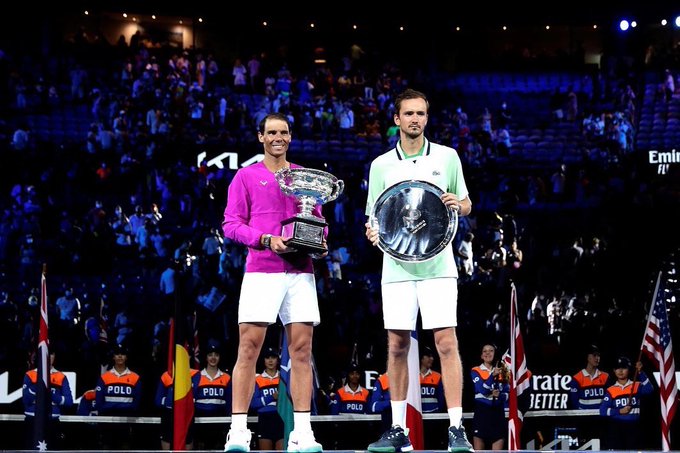 Rafa beat Daniil Medvedev, 2-6, 6-7 (5-7), 6-4, 6-4, 7-5, in the 2022 Australian Open men's singles final. Nadal rallied from two sets down to win the marathon five-setter.
Christine Evert Praises Rafael Nadal
Nadal was side-lined with a recurring foot injury since last May. He even had to undergo an operation that left him on crutches just four months ago.
In December 2021, Nadal suffered from a breakthrough case of COVID-19. Following his first-round victory at the 2022 Australian Open, he told Eurosport Spain, "A month and a half ago I didn't know if I would play tennis again at a professional level due to various factors, including the problems I've had with my foot and with COVID."
Even after a week of his win, Christine Evert is feeling the excitement of the historic win. She tweeted, "Still mulling over Rafa's win at the @AustralianOpen How on earth did he win that????"
Rafa in his post-match speech said, "One month and a half ago, I didn't know if I was going to be able to be back on the tour playing tennis again."
"And today, I am here in front of all of you having this trophy with me and you really don't know how much I fought to be here. I can't thank you enough for all the support that I received since I arrived here."
Rafael Nadal along with Roger Federer and Novak Djokovic make up the generation-defining Big Three. They have dominated the professional tennis circuit for well over a decade now.
With Nadal winning his 2nd Australian Open title, he broke the Grand Slam record that he, Djokovic and Federer held in a tie at 20 titles each.