Inside the cage or out, Khabib Nurmagomedov has always been in the headlines. During his fighting days, he used to be the talk of the town primarily due to dominating his opponents. And now, everyone is talking about him as he has announced his retirement. However, it is not only The Eagle who is under the constant media spotlight. Those men who share the same last name with the Russian or people close to him also enjoy constant media attention.
Also Read: "I Don't Find it Fun to Talk About" – Francis Ngannou Opens Up About Growing Up in Cameroon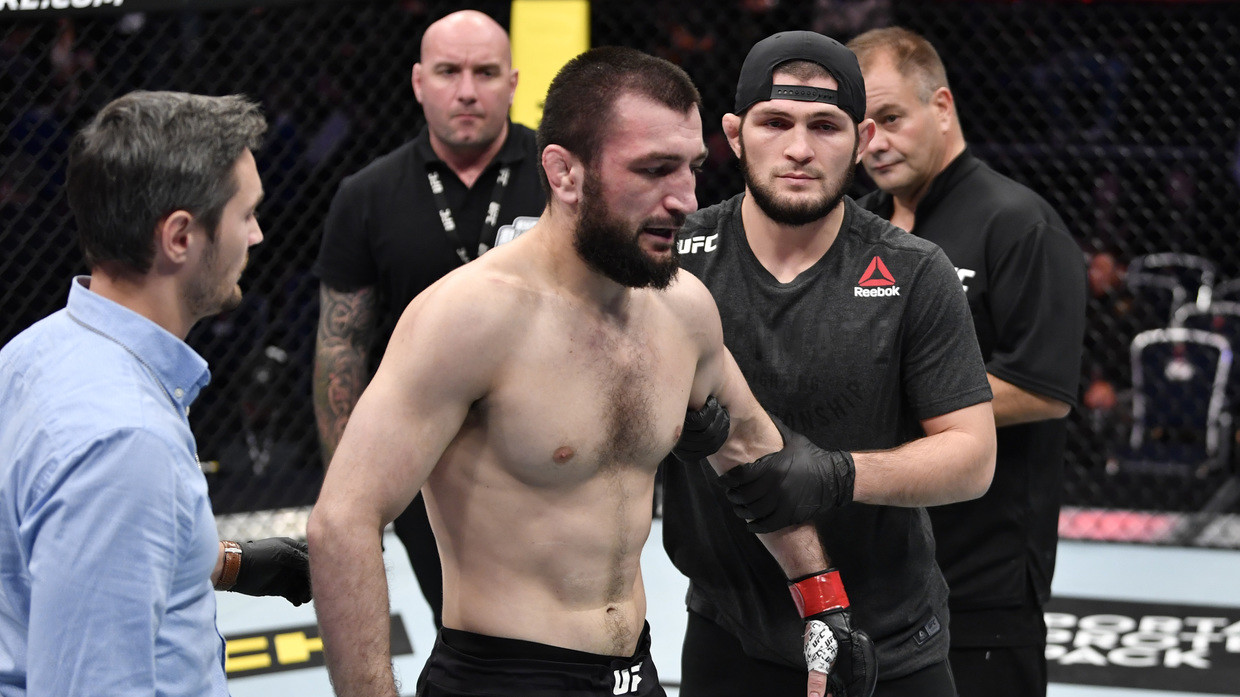 Today we will be talking about Abubakar Nurmagomedov. He is currently fighting in the welterweight division of the UFC.
Who is Abubakar Nurmagomedov?
Abubakar can be termed as another representative of the Nurmagomedov family in the UFC. The 31-year old is another decorated athlete from the mountains of Dagestan. A former freestyle wrestler and combat sambo athlete, he holds a reputed distinction of International Master of Sport in Combat Sambo.
He's been a Combat Sambo World Championships bronze medalist and Russian Combat Sambo champion.
His professional record spans nearly nine years throughout which he amassed an impressive record of 15-3-1. He got signed to the UFC in 2019 and got the opportunity to debut in the fight against David Zawada. However, things didn't go as Abubakar would have planned.
Also Read: Khabib Nurmagomedov Who? Francis Ngannou Calls Jon Jones the P4P No 1 in UFC
He found himself getting submitted by his opponent in the very first round of the bout marking his third professional loss.
How is he related to Khabib Nurmagomedov?
Since both men share the last name, it means that they belong to the same family. Abubakar is The Eagle's younger cousin. Just like him, he had also competed under the tutelage of Abdulmanap Nurmagomedov.
Just like The Eagle's other cousins and close associates, he is also under the same pressure of being as good as their brother. Though he lost in his UFC debut in a disappointing manner, it doesn't mean that the doors have closed for him. He still has the chance to prove himself worthy of fighting inside the octagon.
What's next for Abubakar?
After his disappointing loss to David, the Russian will face Jared Gooden in UFC 260 preliminary card. This Saturday the world will witness what he has to offer. UFC 260 is being headlined by the title fight between the heavyweight champion Stipe Miocic and the challenger Francis Ngannou.
It will be interesting to see how Abubakar's second UFC appearance turns out. If he loses this one too, it would certainly jeopardize his position in the UFC. However, if he manages to turn the tides and secure a much-needed win, he would be in a rather safe position.
Who do you think will emerge victorious in Saturday's back-and-forth between Abubakar and Jared? Will be able to be as influential in the UFC as his brother Khabib Nurmagomedov was? Let's know down the comments section below what do you think.
Also Read: The Most Horrific Weight-Cuts of Khabib Nurmagomedov