Dominick Reyes issued a statement on social media platform Instagram, speaking for the first time since his horrific KO loss against Jiri Prochazka at UFC Vegas 25. Reyes suffered the third straight loss of his MMA career as he dropped a KO loss to the rising contender. Reyes shares his thoughts on the fight, and revealed that he is nothing but proud of the way that he fought against Jiri, and promised to bounce back stronger. In a heartfelt letter to the fans, Reyes talks about his love for the sport and how cruel it can be sometimes.
Also Read: What's Next For Jiri Prochazka?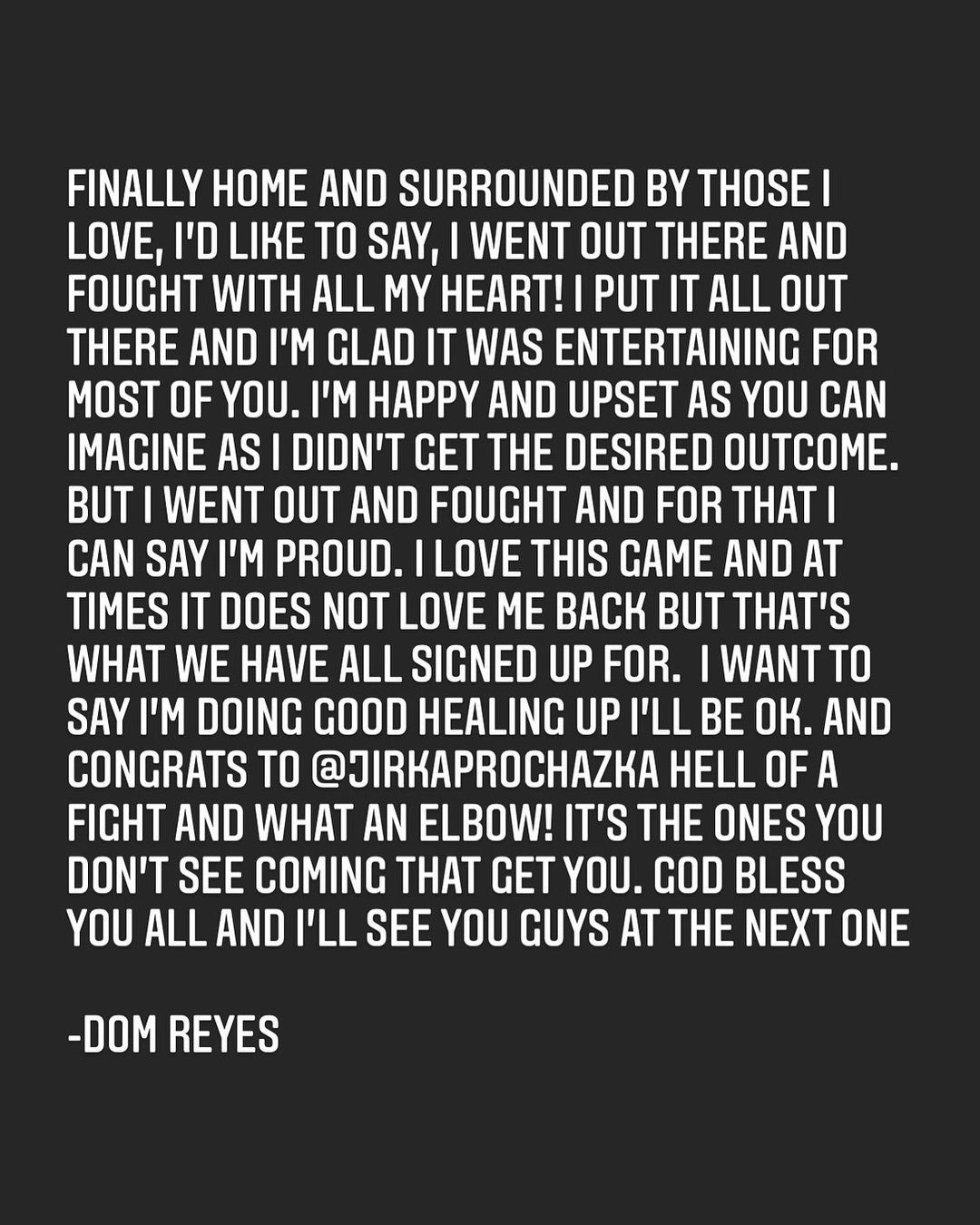 Dominick Reyes just hasn't looked the same ever since dropping a unanimous decision loss to Jon Jones back at UFC 247. Who could have imagined that arguably the only fighter who fans believe beat Jon Jones has succumbed to two back-to-back losses to his name.
Reyes, who was once considered the guy to dethrone Jones, seemingly did so after an emphatic performance against the light-heavyweight champion. However, he failed to maintain the same level of performance, dropping a TKO loss to Jan Blachowicz and Jiri Prochazka in his next two fights.
Where does Dominick Reyes go from here?
Reyes looked great against Jiri in the starting, however, Jiri's aggressive approach took a toll on Reyes who failed to keep up with the onslaught from the Czech Republican native. While he had his moments, seemingly rocking Jiri at one point, he failed to take the advantage of the situation which was in his favor, and eventually paid the price for it.
It won't be wrong to say that Reyes got overwhelmed, finding himself in a similar situation to that of Jan Blachowicz's fight. Needless to say, it's a tough road ahead for Reyes who will look to bounce in his next fight. However, one would hope that Reyes takes some time off to recover considering the amount of damage that he absorbed during his fight against Jiri Prochazka last weekend. There's still no dearth of opponent for Reyes, who has cemented himself as one of the best of all time.
Also Read: BREAKING: Nate Diaz Out of UFC 262 Due to Injury, Leon Edwards Fight to Be Rescheduled