Toni Nadal gave his thoughts on Carlos Alcaraz's growth in the recent past. He said those things ahead of the most important match of Carlos' career to date against Casper Ruud at Miami Open final.
As per Toni Nadal's column in El País, he said, "His evolution during these months has been meteoric. He has improved in all aspects of his game, both physically and technically."
By winning the Miami Open Carlos Alcaraz is now the youngest tennis player to win the competition. Novak Djokovic previously held the record when he won the Miami Open at the age of 19 in 2007.
UNSTOPPABLE 🔥

Brilliant tennis from @alcarazcarlos03 to win his first Masters 1000 title in Miami!#MiamiOpen pic.twitter.com/GZXR7ZkHbH

— Tennis TV (@TennisTV) April 4, 2022
Alcaraz defeated Casper Ruud in straight sets 7-5, 6-4 in the final. He is now the first Spaniard to win the Miami Open. He also has climbed up to world no.11 in the after his sensational win.
Commenting on Alcaraz's physical and mental strength, Toni said, "His journey in this tournament has not been easy. If in some meetings he got rid of his rivals with authority, in others he had to squeeze to the end."
He added, "And in the latter, we were able to verify his high degree of maturity, his desire to fight and the mental strength he has to face really complicated situations."
Toni Nadal impressed with Carlos Alcaraz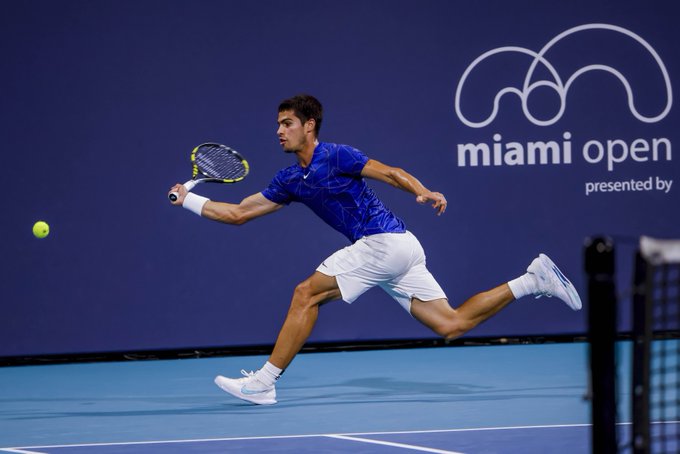 Carlos Alcaraz pulled off a comeback after dropping the first three sets. He won eight out of nine games from 1-4 down, and went on to close out the match with three service holds.
At the press conference he said, "I have no words to describe how I feel right now. It's so special to win my first Masters 1000 here in Miami. I have an unbelievable team with me… I'm so happy with the win and my team."
Toni Nadal is very impressed with Carlos Alcaraz. He is excited to see the young Spaniard flourish in the game and make a name for himself.
Carlos Alcaraz!

The 18yo beats Casper Ruud 7-5, 6-4 to win the Miami Open, his first career Masters 1000.

Alcaraz, now 18-2 in 2022, is the youngest ever player to win ATP Miami, beating Djokovic's record (2007).

Also the 3rd youngest ever to win a Masters 1000.

Incredible. pic.twitter.com/7mLnKHbHhf

— José Morgado (@josemorgado) April 3, 2022
Toni said, "He does everything and he does everything well. If he gets the victory, he will become the first Spaniard to register his name in this prestigious tournament. I had the opportunity to see some of his matches in recent tournaments and I must admit that his game left me impressed."
He further added, "He has become a complete player and very difficult to crush. His great technical ability is combined with an extraordinary physical condition. He has a fast and powerful game that is hard to beat. He combines devastating punches with subtle punches and has the confidence to dare to execute the toughest shots in the toughest times."