The tennis sensation from Spain, Carlos Alcaraz beat Rafael Nadal and Novak Djokovic to reach the Madrid Open final. In a recent interview with L'Equipe, Serbian coach Petar Popovic analyzed the defeat suffered by Novak Djokovic against Carlos Alcaraz in the Madrid Open 2022.
After beating Djokovic, Alcaraz defeated defending champion Alexander Zverev 6-3 6-1 in the final to win his 4th title of the year.
Novak lauded young Carlos for his temperament in the win against him. The Serb said, Alcaraz deserved to win the title as he has been the best player this year.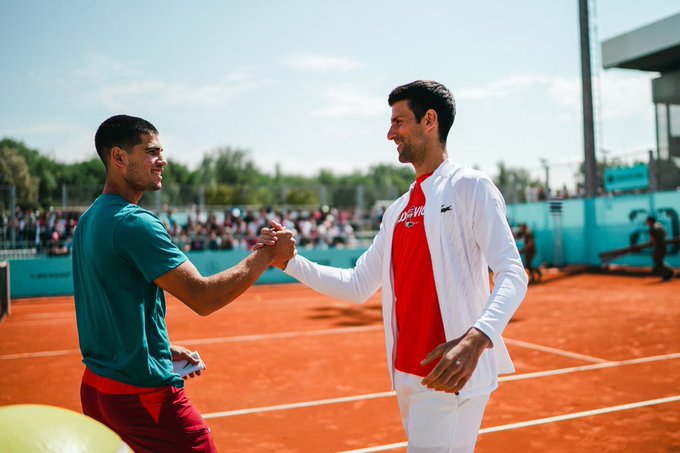 At the press conference, Novak gave his thoughts on the match and Alcaraz. He said, "He definitely is special. Already he's breaking a lot of records as a teenager, winning two Masters events this year, a couple of 500s."
He added, "So far he's the best player in the world, no question, this year. The way he was dealing with the pressure. I mean, in our match a few days ago, how calm he was all the way, was impressive. He deserved to win the trophy."
Petar Popovic on Novak Djokovic's defeat against Carlos Alcaraz
Impressed with Carlos Alcaraz's meteoric rise in tennis, Peter Popovic congratulated the young Spaniard. However, the Serbian coach was disappointed with Novak Djokovic's game against Alcaraz.
Recently, Petar talked to L'Equipe and analyzed the Djokovic vs Alcaraz Madrid Open semi-final match. According to TennisWorld, he said, "Novak Djokovic had a great match, but struggled tremendously to return Carlos Alcaraz's serve. He should have moved closer to the pitch to prevent the ball from rising too much."
Popovic added, "Nole is probably the best nerker of all time, but he got his position completely wrong in Saturday's game. He was too far behind and suffered a damn kick from Carlos from the left."
Spain boasts about clay surfaces throughout the country. There are several clay courts for the young tennis players to play on. Growing up playing on clay had helped Carlos Alcaraz. Madrid being his home country certainly gave him an advantage.
According to Popovic, Alcaraz took the clay court advantage in his stride and played the match against Nole. The Serbian coach said, "Madrid's altitude did the rest, forcing him to strike almost at head level. It was not a technical problem, it was a positioning error. I did not understand why Goran Ivanisevic did not suggest him to approach, it was the key to the challenge."
He further added, "In any case, I believe Djokovic has made significant progress in all aspects of the game. I am more and more convinced that he will arrive at Roland Garros in the best conditions."