Nick Kyrgios lost his cool in Miami Open and spent his fourth-round match delivering a blistering verbal assault on Brazilian chair umpire Carlos Bernardes. Italian tennis player, Jannik Sinner defeated Kyrgios, 7-6 (7/3), 6-3 in the last 16.
The Aussie became involved in a war of words after the walkie-talkie of Bernardes went off mid-point in the first set. Towards the end of his first set, Kyrgios shouted, "Unbelievable! This is one of the biggest tournaments and you guys can't do your job. It's embarrassing. You wonder why no one watches this sport. It's a laughing stock."
No match point saves needed today 🍀

An unfazed @janniksin navigates through Kyrgios 7-6(3) 6-3 to reach the Miami quarter-finals#MiamiOpen pic.twitter.com/ubdvfKDmKt

— Tennis TV (@TennisTV) March 29, 2022
Nick then went on and smashed his racket on the ground. He faced deduction of a point for 'unsportsmanlike' conduct, which he was not happy about.
Kyrgios continued shouting at Bernardes. He said, "I didn't even say anything to you," and repeatedly asked, "What's unsportsmanlike? What is unsportsmanlike?"
The Aussie then demanded to see a tournament official, shouting, "I was talking to my friend. I want to talk to someone. Get me someone now."
'You could do the job of the umpire' – what was said to my best friend that got me 'unsportsmanlike code violation' at 5-3 in the first set tie break. With 100 of thousands of dollars on the line that was the decision he made because the umpires 'feelings got hurt. GET NEW PEOPLE

— Nicholas Kyrgios (@NickKyrgios) March 29, 2022
After the match he gave his thoughts on the matter. He said, "I just don't think he (Bernardes) controls the crowd well at all. For the point penalty, all I said to my team was that Matthew Reid, an ex-player, could do just as good a job. If that's worth a point penalty at a Masters event, that is ridiculous in my opinion."
Nick Kyrgios refuses to apologise to Carlos Bernardes
Nick Kyrgios has insisted he does not care about receiving further sanctions. He has also refused to apologise for his outburst in the match against, Jannik Sinner at the Miami Open.
This isn't the first time Kyrgios has lost his cool during a match. He has previously been fined $25,000 (£19,000) for an incident during a match against Rafael Nadal earlier this month.
A spokesperson for the Miami Open ATP said Kyrgios was fined $20,000 (£15,000) for unsportsmanlike conduct and $5,000 (£3,800) for an audible obscenity.
Nick Kyrgios loses it after receiving a point violation for unsportsmanlike conduct at the Miami open pic.twitter.com/XCQPDydPpe

— T. Joseph Clarke (@Taylortc12) March 29, 2022
Nick snapped at the umpire because his walkie-talkie went off during a match point. At the press-conference he said, "When everyone in the crowd is booing an umpire and he is becoming the centre of attention. That is not his job, no one in the stadium came to see him talk or do what he does."
"You've got Jannik Sinner who is one of our greatest stars and, not to toot my horn, the majority of people are there to watch me play."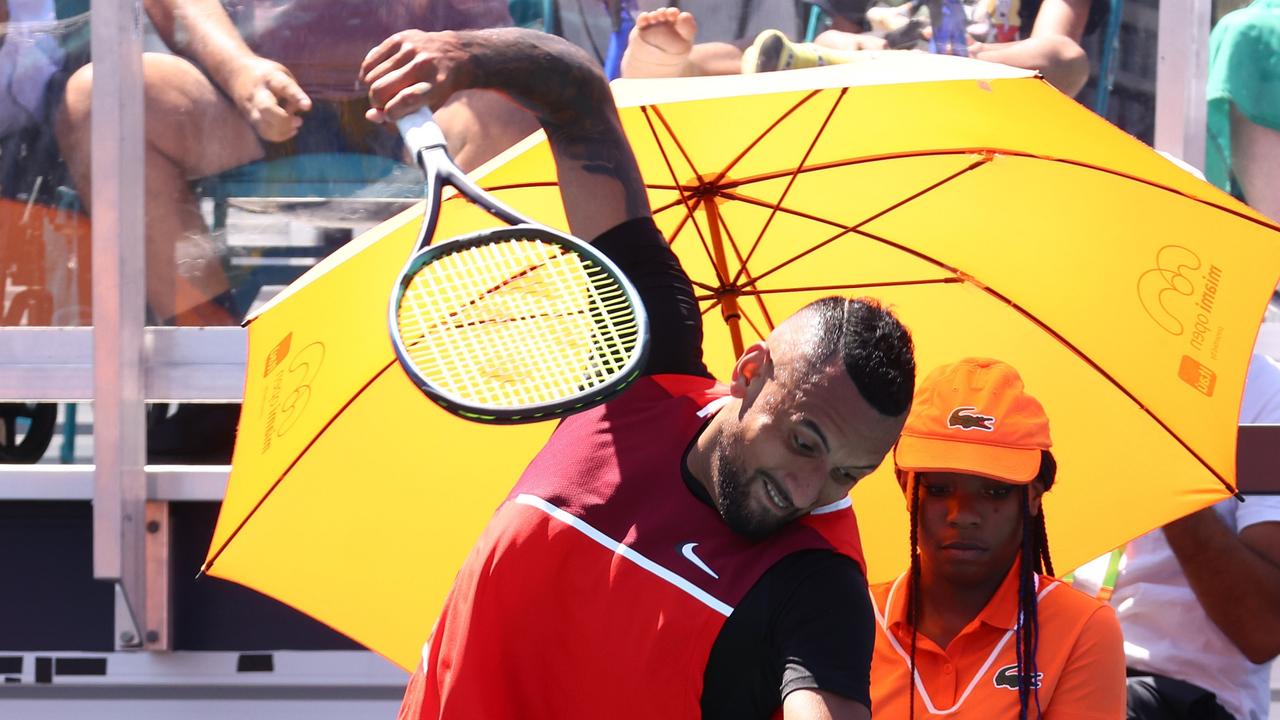 He added, "And you have a guy talking while I was 40-0 up. He was talking. I was like 'what are you doing?' The crowd actually hated him that much they told him to be quiet."
"If you are getting booed by the crowd you are not doing a good job. He made it about himself and apparently his feelings were hurt from what I said and the crowd said. You can't be like that if you're an umpire."