American tennis player Jenson Brooksby hit a ball-boy with his racket in an angry outburst during his Miami Open match. The incident occurred in the 3rd set of the match between Brooksby and Argentina's Federico Coria. Brooksby lost his temper after missing a serve, tossing his racket behind the court. The racket hit the ball boy on his legs.
Gets away with it. #Brooksby pic.twitter.com/QGRFA5Uy5w

— Tennis GIFs 🎾🎥 (@tennis_gifs) March 24, 2022
Brooksby lost his cool during his 3-6, 6-2, 6-3 win over. However his victory got soured by his atrocious behaviour in the deciding set.
Brooksby being 4-1 up and in control of the match, he threw his racket into the ground. The racket then bounced up towards a ball-boy who had to jump out the way to avoid getting hit.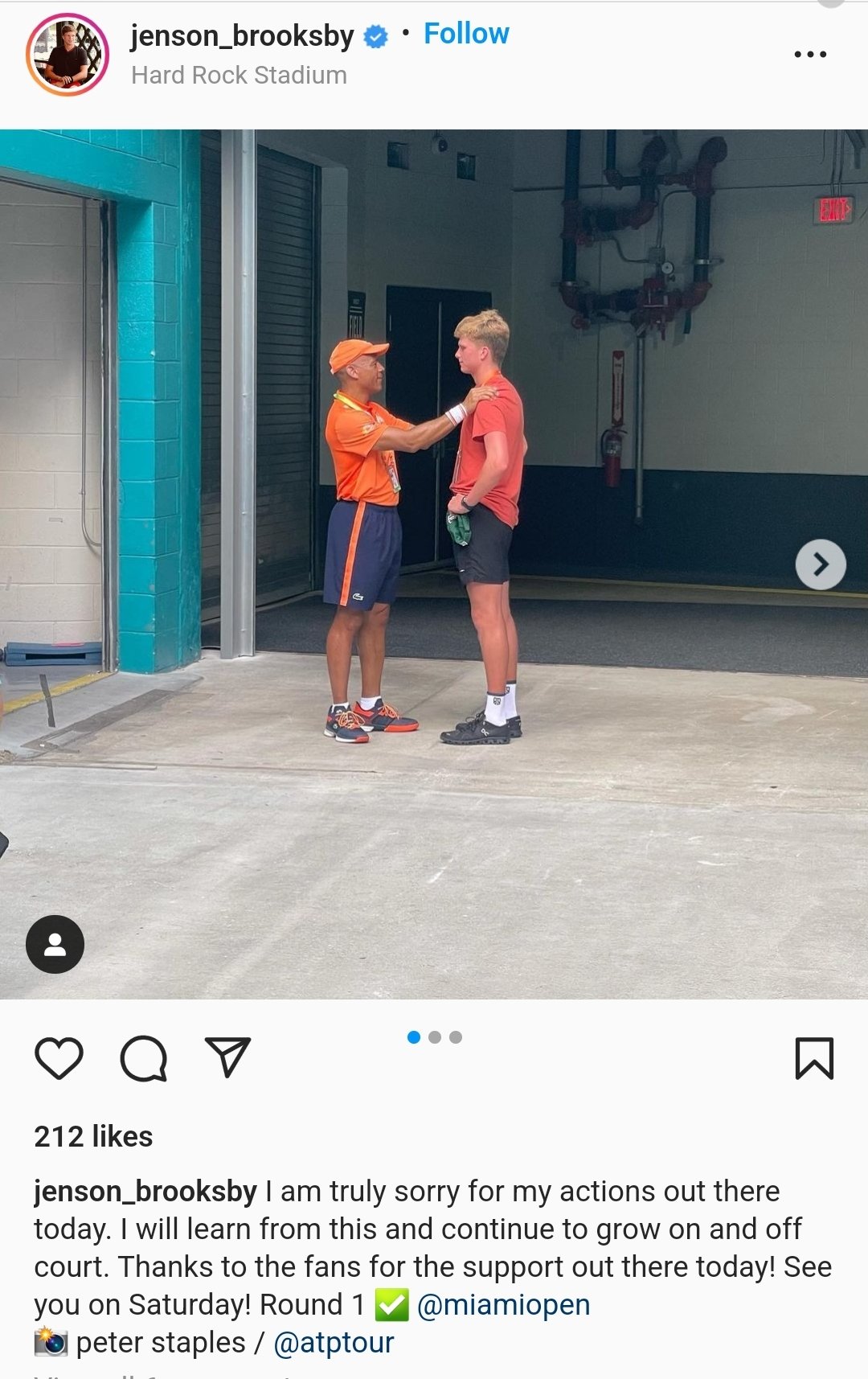 The American took to Instagram and apologised for his on court actions at the Miami Open. He said, "I am truly sorry for my actions out there today. I will learn from this and continue to grow on and off court. Thanks to the fans for the support out there today! See you on Saturday! Round 1 @miamiopen."
Caroline Wozniacki and other tennis personalities call out Jenson Brooksby
Jenson Brooksby got handed only a point penalty despite the Argentinian asking the umpire as to why his opponent did not get a more significant penalty for the incident. The American's actions led to important personalities in the tennis world calling for Brooksby to be handed a much more serious punishment.
Novak Djokovic got thrown out of the 2020 US Open for accidentally hitting a line judge. However the same protocol was not followed for Jenson's angry outburst at the Miami Open.
The outburst should have resulted in a disqualification, but the officials opted only to give Brooksby a point penalty for his loss of control.
Umpire Carlos Bernardes issued a relatively modest penalty and Brooksby went on to win the match against Coria.
Caroline Wozniacki is calling the match for Tennis Channel: "This definitely should be a disqualification."

They play on… https://t.co/pbai9NH5Da

— Tennis Majors (@Tennis_Majors) March 24, 2022
Former World No. 1 and Australian Open champion Caroline Wozniacki gave her thoughts on the Tennis Channel. She said, "This definitely should be a disqualification."
Australian tennis coach Craig O'Shannessy said, "That's a default, that's absolutely a default. That's positively a default, that's clearly a default. I don't know what else to say."
Seriously what is it going to take …drawing blood …to properly punish a tennis player.

This is absolutely absurd.

— Patrick McEnroe (@PatrickMcEnroe) March 24, 2022
Patrick McEnroe also questioned how Brooksby escape from disqualification. He tweeted, "Seriously what is it going to take …drawing blood …to properly punish a tennis player. This is absolutely absurd."