Coco Gauff is an American professional tennis player and is ranked world no.23 by the Women's Tennis Association (WTA). She is ranked as the youngest player in the top 100 by the WTA.
Gauff rose in the tennis limelight with a win over Venus Williams in the opening round at the 2019 Wimbledon Open. She has won four WTA doubles titles. Winning three of them with Caty McNally. On 4th April, 2022 the American teenager reached the career high ranking of world no. 15 in singles. On 28th February, 2022 she achieved world no. 10 in doubles.
Early life and family of Coco Gauff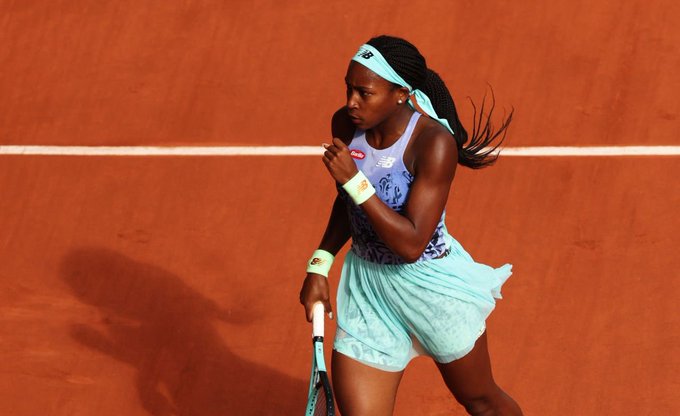 Born on 13th March, 2004 in Delray Beach, Florida to parents Candi and Corey Gauff, Coco grew up in Atlanta. She has two younger brothers, Cody and Cameron who are four and nine years respectively.
Coco's father played college basketball at Georgia State University while her mother was a track and field athlete at Florida State University. She came from a sports loving family and chose to play tennis – preferring an individual sport. She said, "I wasn't much of a team person. I loved tennis. I was so-so about it in the beginning because when I was younger I didn't want to practice at all. And I just wanted to play with my friends. When I turned eight, that was when I played 'Little Mo' and after that I decided to do that for the rest of my life."
At the age of 10 Coco earned a sponsorship to train at Patrick Mouratoglou's academy in France. Gauff named the Williams sisters as her inspiration after watching Serena Williams win the 2009 Australia Open.
Gauff began to training at the Mouratoglou Academy in France run by Patrick Mouratoglou. He said, "I'll always remember the first time I saw Coco. She came over to the Mouratoglou Academy in 2014 to try out and she impressed me with her determination, athleticism and fighting spirit… When she looks at you and tells you she will be number one, you can only believe it."
Cori "Coco" Gauff's tennis career
finalsss🥺🤍 @rolandgarros pic.twitter.com/EPfgHmHIJz

— Coco Gauff (@CocoGauff) June 2, 2022
Cori "Coco" Gauff began playing in the International Tennis Federation (ITF) Junior Circuit at the age of 13. In her 4th ITF event, she finished as the runner-up at the 2017 junior US Open. She became the youngest finalist in the tournament's history.
Coco became the no.1 junior in the world after winning the junior Grand Slam singles title by defeating McNally at the 2018 French Open.
Gauff made her WTA Tour debut in March 2019 at the Miami Open and won her opening match. She received a wildcard into the qualifying draw at the 2019 Wimbledon Championships where she became the youngest player in the tournament's history to qualify for the main draw. She won her first WTA singles title at the 2019 Linz Open at age 15, making her the youngest singles title-holder on the WTA Tour since 2004.
Net Worth of Coco Gauff
𝐖𝐄 𝐆𝐎𝐓 𝐍𝐎𝐖 @newbalance pic.twitter.com/P4x6bTLSK7

— Coco Gauff (@CocoGauff) August 31, 2020
As of 2022, Coco Gauff had an radiated net worth of $2.5 million. This season alone she has earned $313,355 in prize money for her participation in various tournaments.
Coco Gauff has a partnership with the famous sportswear manufacturer New Balance and tennis equipment manufacturer Head. She also has Barilla, an Italian multi-food company as a sponsor. The company also supports Roger Federer. She also has a partnership with Microsoft, a worldwide software developer.