When it comes to tennis, you simply just can not ignore the legendary Steffi Graff. A German former professional tennis player, Mrs. Stefanie Maria Graf or commonly known as Steffi Graf was ranked world no. 1 during her time. She was known as one of the best players among her competitors. She holds a record of 377 weeks for which she was ranked no. 1 plus wins of 22 Grand Slam singles titles. The only player to win the golden slam in the same year.
Let us dig deep more about the player and know more. Here's everything that you need to know about the German sensation and how she dominated the game.
Also read: "Mentally Today I Was Poor" – Andy Murray Admits Lack of Concentration for His Loss in the European Cup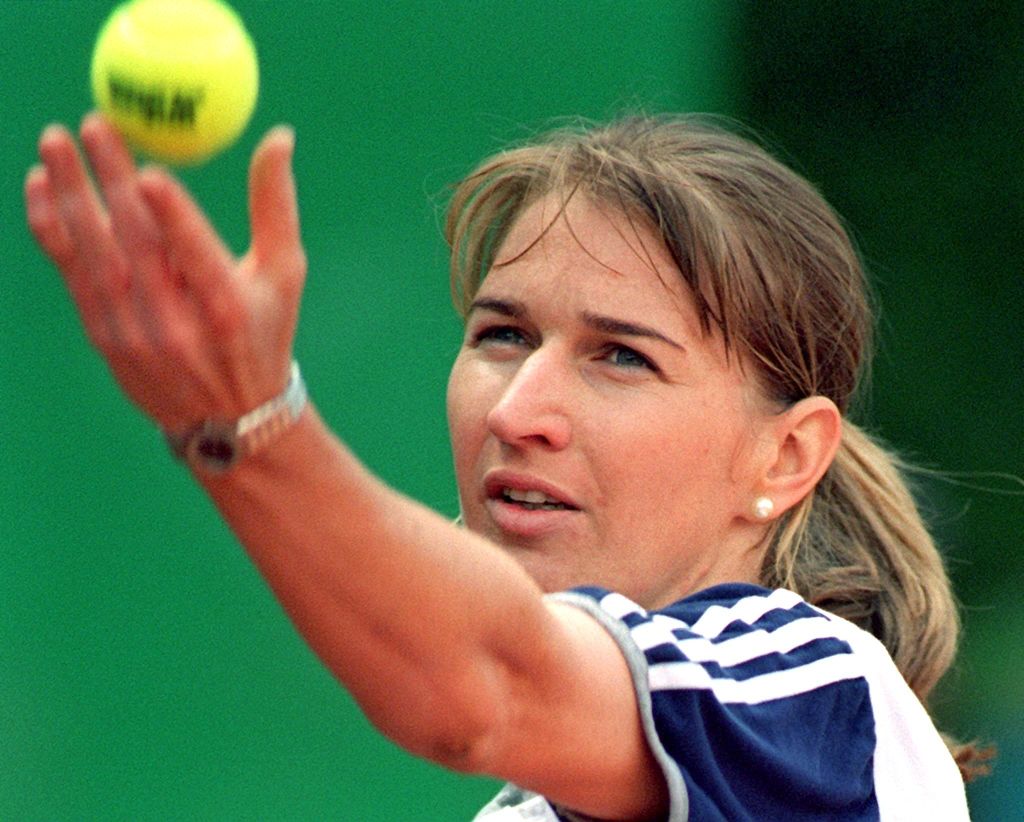 The early life of Steffi Graf
Steffi Graf was a successful tennis player with professionalism at its best. She was born on June 14, 1969, in West Germany. Being born in a tennis-playing family, she invested her time, dedication, and focus in this game from the very beginning of her life, when she was already four. Her parents were both tennis players. Her core strength stood in her swift movement of legs and forehand power to swing that racket aiming the goal. Her gaming turned out to be pro from the year 1982 i.e. when she was 13 years old.
The Steffi Graf. pic.twitter.com/ythzhMuqTm

— WhatIsInAName (@SugTwitt) October 21, 2021
As said, her father (Peter Graf) and mother (Heidi Schalk) both played tennis so, they were much more invested in her gaming career. Her father turned himself into a coach and introduced her to the game. Her first racket was wooden made and the court was but a living room. She was 3 years old to begin her journey. Soon she started her practice on the court by age of 4 and when turned 5 years old, she played in the first tournament. Then, she also started gathering various championships on her way to the top tier. She grabbed all the top prizes in the Junior tournaments maintaining consistency and focus. These were things that led her to the top.
Whom did Steffi marry?
She started dating Andre Agassi after the 1999 French Open and later they married on the 22nd of October, 2001. The only witnesses were their mothers. They are now gifted with two children, one boy, and a girl. Son -Jaden Gil (2001) and daughter-Jaz Elle (2003). Unlike their life they stated that they don't want their children to get dragged in the game, instead, they will let them choose their path and not push for choosing what they want.
October 22 – #OnThisDay Today marks the twentieth wedding anniversary of tennis champions Andre Agassi and Steffi Graf. They are American and German respectively. The pair wed in 2001. They married in Las Vegas at their home with only their mothers as witnesses. pic.twitter.com/u1Q86MuMMo

— Doodle this day in History (@DoodleHistory) October 22, 2021
The professional career of the player
She has played in under many and varied titles and tournaments resulting in wins and losses just like any other players trying to mount the success mountain. She was known for her singles game. Steffi won all the four Grand Slam Singles Titles at least four times each namely the Australian Open, French Open, Wimbledon, and US Open. The former world number 1 also won these four titles in one year i.e. in the year 1988. No one has so far achieved it all in one particular year. Apart from that, she also won Olympic games n the very same year, including Grand Slam Doubles Title of Australian Open & US Open as Semi-Finalist and Winner of Wimbledon Doubles.
Steffi Graf was also the Semi-Finalist of the Olympic Games and Tour Finals under the doubles category in the same year. So, it seems 1988, this year was super lucky for her including the fact that her endurance, struggle, focus, and most importantly her willpower was higher enough to attain all these goals. The player suffered multiple injuries for playing any game brings numerous wounds and pains as a side dish. The level of endurance decides the longevity of the players. She eventually retired in the year 1999 at the age of 30. Even during the time of her retirement, she still was ranked no. 1. The reason for her retirement was the realization of reaching the limit and not enjoying the game anymore due to pain.