Rafael Nadal made his entry into the tennis court again late this year. The former World No.1 hadn't competed professionally since Washington Open in August, due to his foot injury. He faced the three-time Grand Slam champion, Andy Murray, for his comeback match in Abu Dhabi.
"In Mallorca for the last five months, I played zero of these matches. I just did exercises and something more under control to try and make the normal evolution for the foot," explained Nadal.
Also Read:- Novak Djokovic, Daniil Medvedev, or Rafael Nadal: The Top Players to Look Out For at the Upcoming Australian Open
Rafael Nadal's highly anticipated comeback got off to a disappointing start as he lost to long-time rival Andy Murray in the semi-finals of the 2021 Mubadala World Tennis Championship.
Nadal deemed his unofficial return to competition in Abu Dhabi at the Mubadala World Tennis Championship as a "positive start" after he was defeated by Andy Murray in a high-quality exhibition match on Friday.
Nadal's Plans for the Australian Open
Rafael Nadal has plans to play at the 2022 Australian Open. The 20-time major champion has not played since a defeat to Lloyd Harris at the Citi Open in August.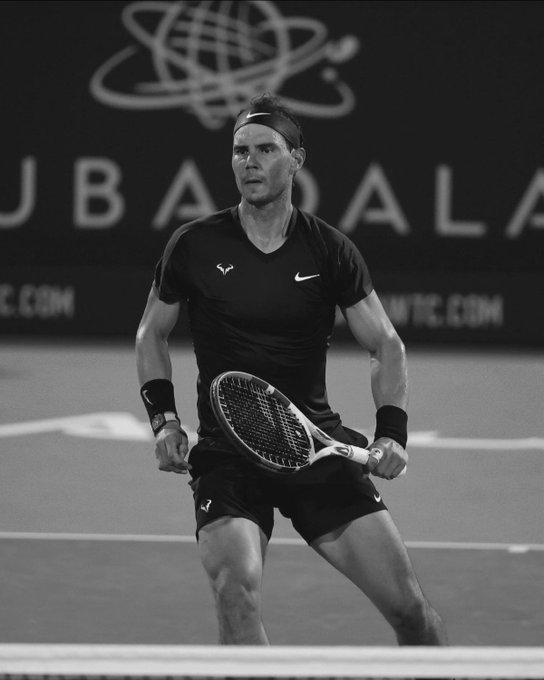 Nadal withdrew from Wimbledon and the Tokyo Olympics after losing to Novak Djokovic in the French Open semi-finals. He has also pulled out of the US Open due to the recurring foot injury.
He has spent time training in Mallorca after following a treatment in Barcelona.
The Spaniard plans to play an ATP tournament in Melbourne early in the new year before the Australian Open which begins January 17. "I know it's going to be super difficult for me," Nadal said about his Australian Open prospects.
Nothing to see here, just Rafa Nadal doing what he does best! ????#AusOpen #Flashback pic.twitter.com/BOcS9dGEYG

— Samaa Sports (@samaasport) December 26, 2021
With matches in the Melbourne warmup game, Nadal said, "The amount of hours on court at the competitive level before such a tough and demanding tournament like Australia will not be much. But the main thing is still always the same – is to be healthy. If I am healthy, I still have the interior fire to keep going and to fight for my goals."
David Ferrer believes in Nadal at winning the Australian Open
David Ferrer believes Rafael Nadal has a shot at winning the Australian Open. "At the moment, Djokovic is playing well and he is healthy, but I [also] think Rafael Nadal has a chance to win the Australian Open, for sure," Ferrer told Sky Sports.
Nadal returned to competitive tennis at the Mubadala World Tennis Championship in Abu Dhabi. He said that he is still active because he wants more success and not because he wants more money or to play just for fun.
"I still believe that I will be competitive enough to give myself chances to compete for the things that I have been competing for the last 15 years; if not, personally it doesn't make sense. I am not playing at all for money or just for fun, I am playing to keep achieving goals or at least to enjoy the process to try to achieve my goals. If then you don't achieve, it's fine, but the motivation and the passion is still there." Nadal said.
Nadal Has Tested Positive for COVID-19
Rafa's preparation for the 2022 season took a blow after Abu Dhabi. As he tested positive for COVID-19 upon his return to Spain.
Nadal will be at Melbourne Park for the Grand Slam despite testing positive for Covid-19. He was infected while playing in Mubadala World Tennis Championship. He said that he would make a decision on his future tournaments depending on his "evolution" over the weeks ahead. Nadal has since returned home to Spain but will likely fly to Australia after being cleared of the virus.
So Rafa Nadal has started some physical training in quarantine

Would be interesting to see when he hits practice court, if he Intends to go to #AUSOPEN https://t.co/qGmEVSQuBZ pic.twitter.com/lG36bqHJFx

— Llama Says (@funnyzeitgist) December 26, 2021
After testing positive, Nadal said, "I'm having a few unpleasant moments but I hope to improve little by little. I am now confined at home and have reported the result to people who have been in contact with me,". The positive news is that Nadal quickly recovered and that he has returned to the practice court.
"I'm confident Rafa will be here," tournament organiser Craig Tiley said about the 20-times Grand Slam champion at Melbourne Park on Wednesday.