The NBA finals have just come to an end and the free agency and trade news have already begun to come in. Chris Paul, was extremely close to capping off a hall of fame career with a ring. He was just 2 wins away and this has been the closest he's reached. Even at the age of 36 Chris Paul made an All-NBA team.
Another player that is already on the trade market is Russell Westbrook. In the last 3 years he's already been on 3 teams and already back in the trade rumors. Last year he averaged triple double. He also lead the league in assists with nearly 12 a year. He is also an older guard slowly coming out of his prime.
Both of these guards have had great careers but no rings to show for it. And now that they are at the tail end of their careers and really looking to get that Championship.
Lakers are seeking a vet PG, and Chris Paul is on their list, per @MarcJSpears

Russell Westbrook is also a candidate 👀 pic.twitter.com/abkFczR355

— Bleacher Report (@BleacherReport) July 21, 2021
The Los Angeles Lakers had a really bad post season. It was mostly due to unfortunate injuries but they really needed that guard to help LeBron when AD was out. Also Dennis Schröder, who was the main guard this year but averaged less than 3 assists a game in the playoffs. His productivity really dropped from his runner up 6MOTY campaign. When they won an NBA title, Rajon Rondo was the real key and Schröder could not fill his role on the team.
Free agent, Dennis Schröder now also wants over $100 Million dollars this year and the Lakers are not willing to pay that money. That's why they are trying to go after Westbrook and Paul to get back to that Championship realm.
Also Read: Is Chris Paul Retiring After Disappointing Loss Against Milwaukee Bucks in the NBA Finals 2021
Here is how Chris Paul would Fit on the Los Angeles Lakers
Chris Paul to the Lakers? Are we back in 2011 again? However, Chris Paul is an older but still efficient guard. The only player who has more basketball IQ than Rajon Rondo is Chris Paul. He was instrumental in making Ayton lethal and how they went from missing the playoff to the NBA Finals in one year. He would also take more of the load from Anthony Davis and LeBron James.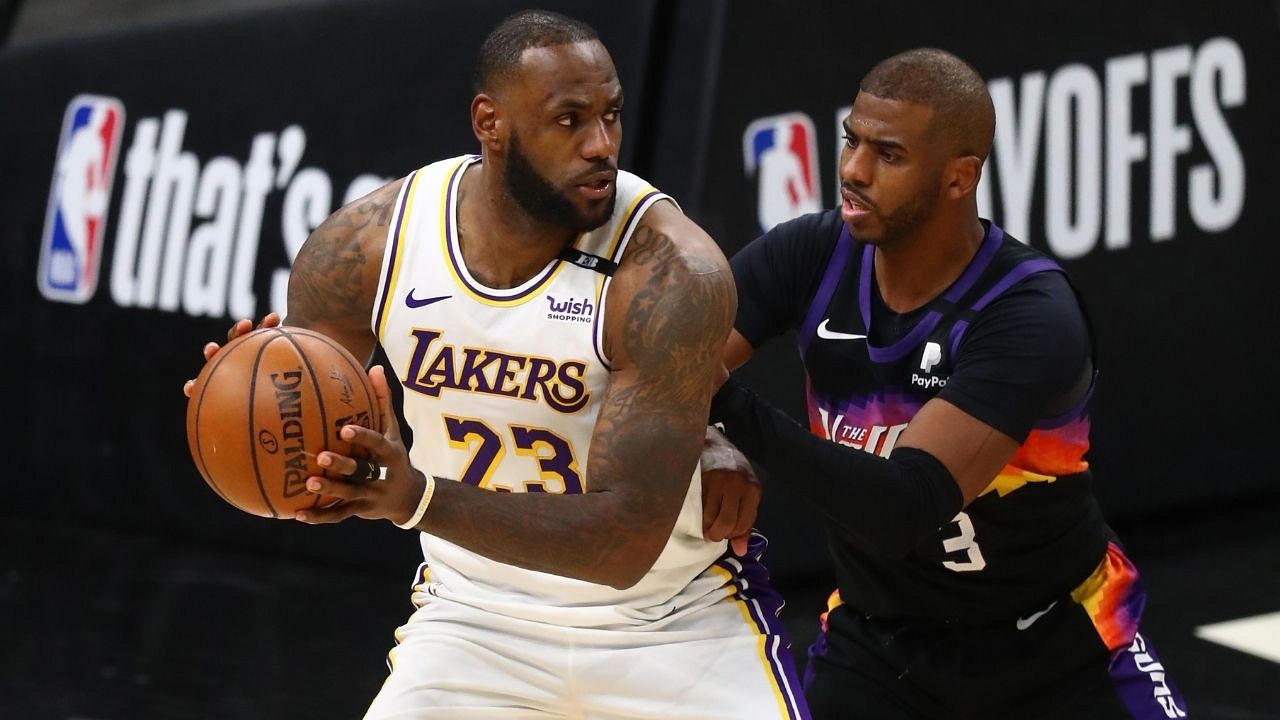 He's a really good defender and averaged nearly 9 assists and 2 steals. Also in the span of the playoffs, he had some huge games and really destroyed the Lakers. It's unlikely the Phoenix Suns let him go after how well they played but if the offer is really good they might just agree.
Will Russell Westbrook Play well on the Lakers?
Westbrook recently has become a controversial figure. From the MVP of the league and breaking records to now being traded year after year. Since leaving OKC its been hard for him to find a permanent home. Funnily, one of the times he was traded for Chris Paul. Now they both are the main targets on the list for the Lakers.
Russell Westbrook will really reduce the very little spacing the Lakers already have. However, we just saw in the NBA Finals, Giannis Antetokounpo completely dominated the paint whilst winning the series. At least with Westbrook they will get a guaranteed scoring option that they could not find with Dennis.
Both these acquisitions on paper, nearly guarantee them winning the NBA title. The potential package for both those players include Kyle Kuzma, Dennis Schröder and Talen Horton Tucker. Kyle and Dennis were really bad and Tucker made a surprising rise last year. They will have to include a lot more but there are reports that the deal for Westbrook have already began to take shape.
In my opinion, Chris Paul would be a better fit but far more hard to get so upgrading with Westbrook makes more sense and more realistic. This offseason could shape up to be a really interesting one and just a couple days in this news could potentially decide the NBA champions if it goes through.
Also Read: "LeBron Ain't Michael"- Space Jam Director, Joe Pytka Trashes Space Jam : A New Legacy